Artificial Leather die cutting press
The die cutting press is used for cutting artificial Leather material,made for such as artificial Leather Shoes, bags, belts, watch straps, car seats, wheels, motorbike jackets, saftey shoes etc.Nowdays,artificial Leather is great fabric that intended to substitute for leather in many industry.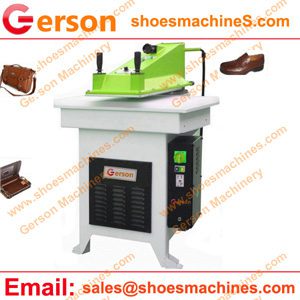 Gerson die cutting machines can be used from small die cutting area to large die cutting are and mini cutting force to Large cutting force need .
Now the following details feature clicking press
1.Durable steel head frame construction
2. Two-hand operation to make sure the operator safe and reliable.
3. The minimum friction for easy swing motion so it is very easy moving out to prepare materials and cutting die
4.Automatic pressure control by potentiometer or timer.
5. The press buttons are ergonomically positioned for operator's comfort.
6. Self-lubricating system reduces wear so it will prolong the life of the machine.
7. Excellent low noise during the machine operation.
8.Features a 3×440/415/400/380/220/200V, 50/60 Hz electric motor.
9. Includes polypropylene cutting board.
10. Hign quality parts and good service support.
11. Good looking with a cost competitive price
12.No minimum quantity requirement.
13.Also can be used for real leather,plastic,paper,rubber,fabric etc.,
14.Any other models for large cutting are and large cutting force .
15.Any special requirement welcome.
Model 

GR-20C

GR-27C

GR-27C/1

GR-27C/2

Max. cutting power(ton)

 20

 27

 27

27

Maximum stroke(mm)

80

100

100

 100

Cutting table(mm)

 900 x 430

 900 x 450

1000 x 500

1200 x 500

Arm width(mm)

 370

370

500

500

Motor power(HP)

 1

1.5

1.5

1.5

Net weight with oil(Kg)

.570

780

 840

910

Sizes about (mm)

 1000 x 900x
h. 935

900 x 1000x
h. 1370

1000 x 1000x
h. 1370

 1200 x 1030x
h. 1370

Sizes sea packing(mm)

1050 x 1085x
h. 1500

1050 x 1150x
h. 1570

1150 x 1150x
h. 1570

1350 x 1180x
h. 1570

Gross weight and volume with sea packing

640(Kg)
1.7m3 

900(Kg)
 1.9m3

980(Kg)
2.1m3

1055(Kg)
2.5m3
Tags:
Artificial Leather die cutting machine
,
leather die cutting machine